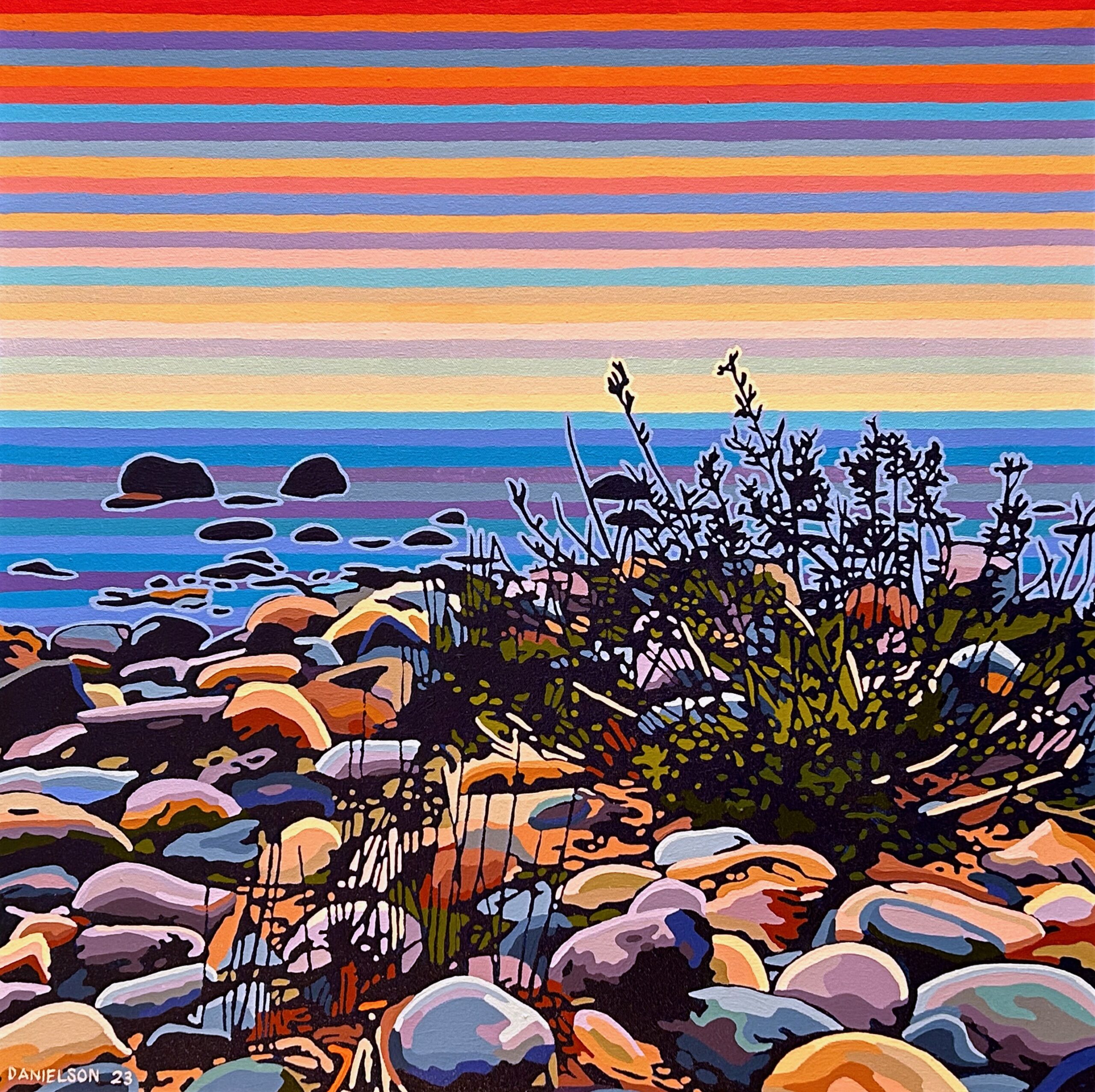 IG:@frankdanielson66
We built Inukshuk Capital Management to serve the needs of clients looking for a unique approach – void of conflicts of interest, commission sales and pushed products. We began by putting our own money where our mouth is. With low fees and active risk management, we help families achieve financial longevity, that's the bottom line.
Stay up-to-date on the latest developments by following us on LinkedIn here.
June 2023: Language and Learning
In this issue:
Global Equity Market Performance – May
Language
Learning
Summing Up
Health is Wealth
GLOBAL EQUITY MARKET PERFORMANCE – MAY
May was 'opposite month' compared to April. The two best performing indexes in April , the S&P/TSX60, up 3.5%, and MSCI EAFE (Europe, Asia the Far East and Australasia), up 2.8%, were down 5.2% and 3.7% respectively in May. The S&P 500 managed to cling to a positive result but Emerging Markets could not and ended down 1.8%.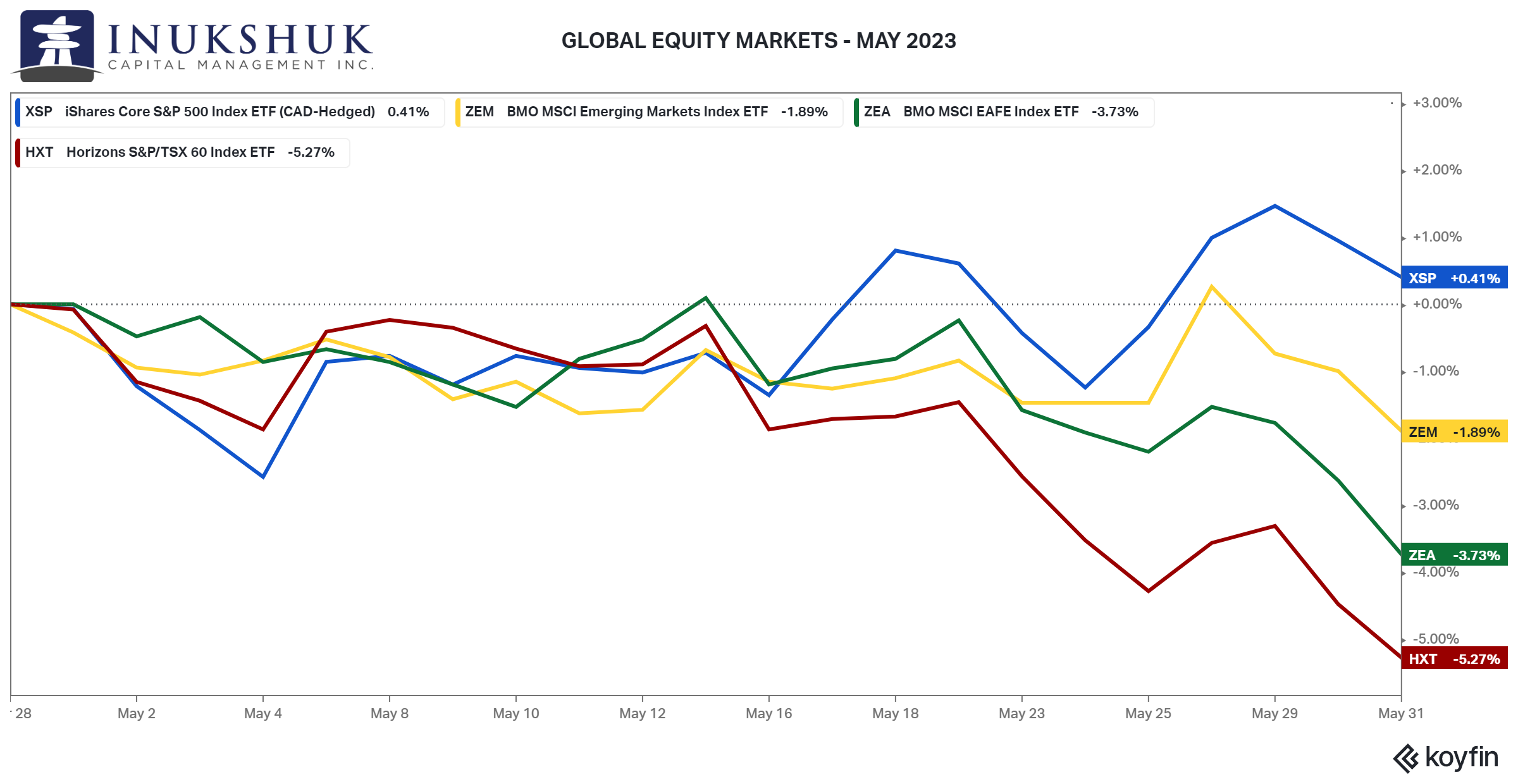 On the U.S. regional banking front, there were no disasters in May although KRE, the SPDR S&P Regional Banking ETF was down 8.6% which continues to drag on the performance of the Russell 2000, small-cap index. What is notable is the performance of the Nasdaq 100 which had a very good month up 7.7%. More on that below.
Our systems continue to remain long the S&P 500 and S&P/TSX60.
If you would like to stay current on our measures of trend and momentum in the markets we follow, please click here .
LANGUAGE
On June 13th, 2023, Cormac McCarthy died. McCarthy is mostly known for his books 'The Road', 'No Country for Old Men' and 'All the Pretty Horses' – probably because they have all been made into movies. He has also published a non-fiction paper on the origins of language, why it exists and the unconscious mind: 'The Kekulé Problem'.
Not too many know that for the last several decades he has been a resident at the Santa Fe Institute (SFI) in New Mexico. SFI is where deep thinkers in complex systems of math and physics work on very difficult problems. The mathematicians and physicists enjoy his company because he is an interesting thinker, has a deep knowledge of the history of science and does not think like them. By asking informed questions he helps them explain their ideas and explore new ones.
If you dig into his thoughts on the matters of language and consciousness you can end up in some very interesting places. The models called artificial intelligence and machine learning, or simply 'AI' that are available for use to anyone with a phone or a computer are 'large language models'. ChatGPT is a large language model where GPT stands for 'Generative Pre-trained Transformer'. That is a fancy term for describing the development of the algorithms that do the work.
In this process, engineers build the models and help them 'learn'. Regular humans can simply have discussions with ChatGPT. However, 'prompt engineers' can direct these models to elicit responses by using their understanding of how these systems work and what they know. And some of them are surprising.
There is debate about whether AI can become conscious. This has been going on for a very long time in the background but now seems to be a daily event in media with respect to who has discovered what and what it may mean. Things happen fast in scientific environments at times after decades of little news. This appears to be one of those fast times.
Maybe we will learn what Cormac thought about this at some time in the future. He was a very private person and did almost no interviews. What we know of him is mostly from people who knew him and what he has written.
In the meantime, here is a favourite quote from 'No Country for Old Men' where Sheriff Ed Tom Bell, played by Tommy Lee Jones in the movie, responds to a question from his deputy about a crime scene.
"It's a mess, ain't it Sheriff? 
If it ain't it'll do till a mess gets here."
You can turn that one around any way you want.
LEARNING
ChatGPT, developed by OpenAI, was released to the public along with the announcement that some of its technology is now deployed in Microsoft's search products. Microsoft controls ChatGPT. We covered that in February when Microsoft stock outperformed Alphabet (Google) substantially as the market was trying to figure out the winners and losers of this latest development. Apple was not impacted by these events. Alphabet has pulled up on the stick since that dramatic series of events and now all three are up about 40% on the year.
Fun fact: at one point in May the market valuation of Apple was more than all of the companies in the Russell 2000, the benchmark index for small capitalization stocks in the U.S. Regional banks are a large component of the Russell which may explain some of this.
The Nasdaq 100 is up 30% as of the end of May. It has tacked on another 6% this month, so far. This kind of performance brings to mind prior examples of tech investor enthusiasm. To investigate where this current rally stands, we did some numbers.
Looking at the past 25 years of the Nasdaq 100 annual performance is a good sample. If you narrow it down a bit to the top five years this is what you get.

One way to see how the 2023 version of the Nasdaq 100 stacks up to these years is to chart how it performed year-to-date and compare. This is how that looks.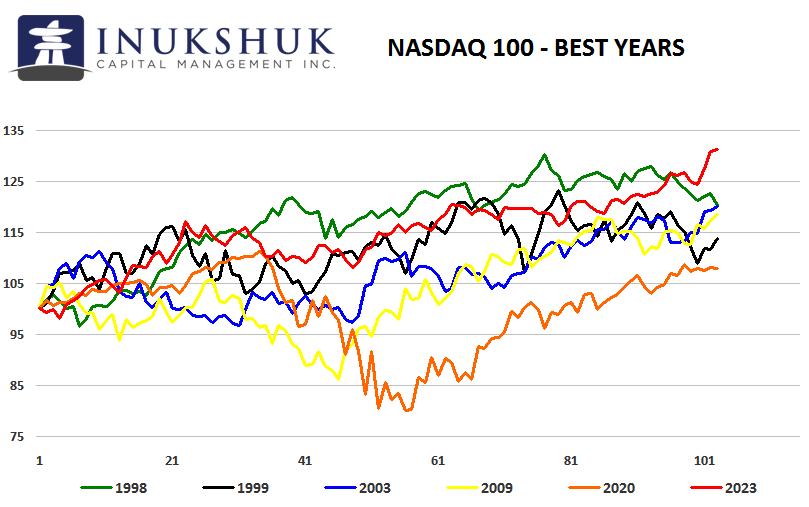 So far, 2023 is the leader of the pack. That doesn't mean it will end up 50% to a 100% on the year but regardless of how you look at it, it is not out of character for this particular index. This also doesn't imply anything about what performance will look like a year from now.
SUMMING UP
Maybe AI is the solution to all things and is the driving force behind the tech rally. Who knows. It's highly likely the same analysts who are declaring that to be the case had no idea Microsoft would come out of the gate ahead of Alphabet. The reason for that observation is in the market response to both companies' announcements earlier this year. That is the definition of a surprise and surprises do not happen when everything is known.
There is no denying the World Wide Web has changed everyday life. There were sceptics in the years running up to the highs in 2000. Some of them lost a pile of money. Some of them made a pile in the aftermath. All we know is what has happened.
One thing we can predict is that the days are going to get longer for a week or so and then start getting shorter. That means it is summer, which for some in this part of the world doesn't seem to last long enough. Victoria's bit below is on how to make your summer a good time for your health. Enjoy.
HEALTH IS WEALTH
Stay Cool ! Healthy Tips for a Vibrant Canadian Summer.
As the temperature rises and the sun graces us with its warm embrace, it's time to embrace the joys of summer in Canada! With longer days and an abundance of locally grown produce, this season presents a perfect opportunity to rejuvenate your wellness routine. Let's explore some enjoyable and light-hearted ways to stay healthy while savoring the delights of summer.
1. Hydration: The Key to Vitality
The summer heat calls for optimal hydration. Make it a habit to carry a reusable water bottle wherever you go and sip on cool, refreshing water throughout the day. For an extra burst of flavor, infuse your water with locally grown berries, such as juicy strawberries or plump blueberries, which offer not only taste but also essential antioxidants. By staying properly hydrated, you can increase your reaction time by up to 30%!
2. Farmer's Market Freshness
Take advantage of the many farmer's markets that offer a wide variety of fresh, locally grown produce during this time of year. Fill your shopping bags with delectable vegetables like sweet corn, crisp cucumbers, and vibrant leafy greens. These seasonal delights not only provide your body with essential vitamins and minerals but also contribute to supporting local farmers and reducing carbon emissions associated with long-distance transportation.
3. Perfect Picnics
Embrace the beauty of our picturesque landscapes and plan a delightful picnic. Pack a thoughtfully curated picnic basket with wholesome whole-grain bread, homemade salads brimming with locally sourced greens, and a refreshing selection of seasonal fruits.
4. Embrace Outdoor Exercise
While summer beckons us to partake in outdoor activities, it's important to be mindful of the sun's intense rays. Protect your skin by applying sunscreen, wearing a broad-brimmed hat, and opting for lightweight, breathable clothing. Engage in invigorating activities such as swimming in our pristine lakes, embarking on nature hikes along scenic trails, or participating in outdoor exercise classes. The possibilities for outdoor enjoyment are endless!
5. Make Frozen Treats
Cool down with delicious, homemade frozen treats. Instead of indulging in store-bought ice creams loaded with sugar, create your own refreshing desserts. Blend locally grown frozen fruits like watermelon or raspberries with a splash of lime juice to make a guilt-free summer sorbet. For an equally delightful option, freeze yogurt and add an assortment of seasonal berries for a refreshing popsicle.
6. Cultivate Your Green Thumb
Nurture your love for nature and start your own summer garden. Cultivate vibrant salad greens, succulent tomatoes, crisp peppers, and aromatic herbs like basil and mint. Not only will you relish the freshness and flavor of homegrown produce, but you'll also contribute to reducing your carbon footprint by eliminating the need for long-haul transportation.
7. BBQ 
Nothing brings people together like a lively BBQ gathering with cherished friends and family. Fire up the grill and savor locally sourced lean meats, such as Ontario-raised chicken or tender grass-fed beef. Complement your grilled dishes with an array of colorful vegetable skewers, featuring fresh bell peppers, zucchini, and cherry tomatoes. As you savor the mouth-watering flavors, let the laughter flow and create lasting memories.
Summers in Canada offer a wonderful opportunity to renew our wellness routines while savoring the abundance of local produce. Stay hydrated, enjoy the freshest ingredients, and relish the outdoors with loved ones – it's a recipe for a rejuvenating summer experience.
'You have to sustain it, to maintain it'
Victoria Bannister
ICM Health Ambassador
Have a question?  Contact us here
Challenging the status quo of the Canadian investment industry.